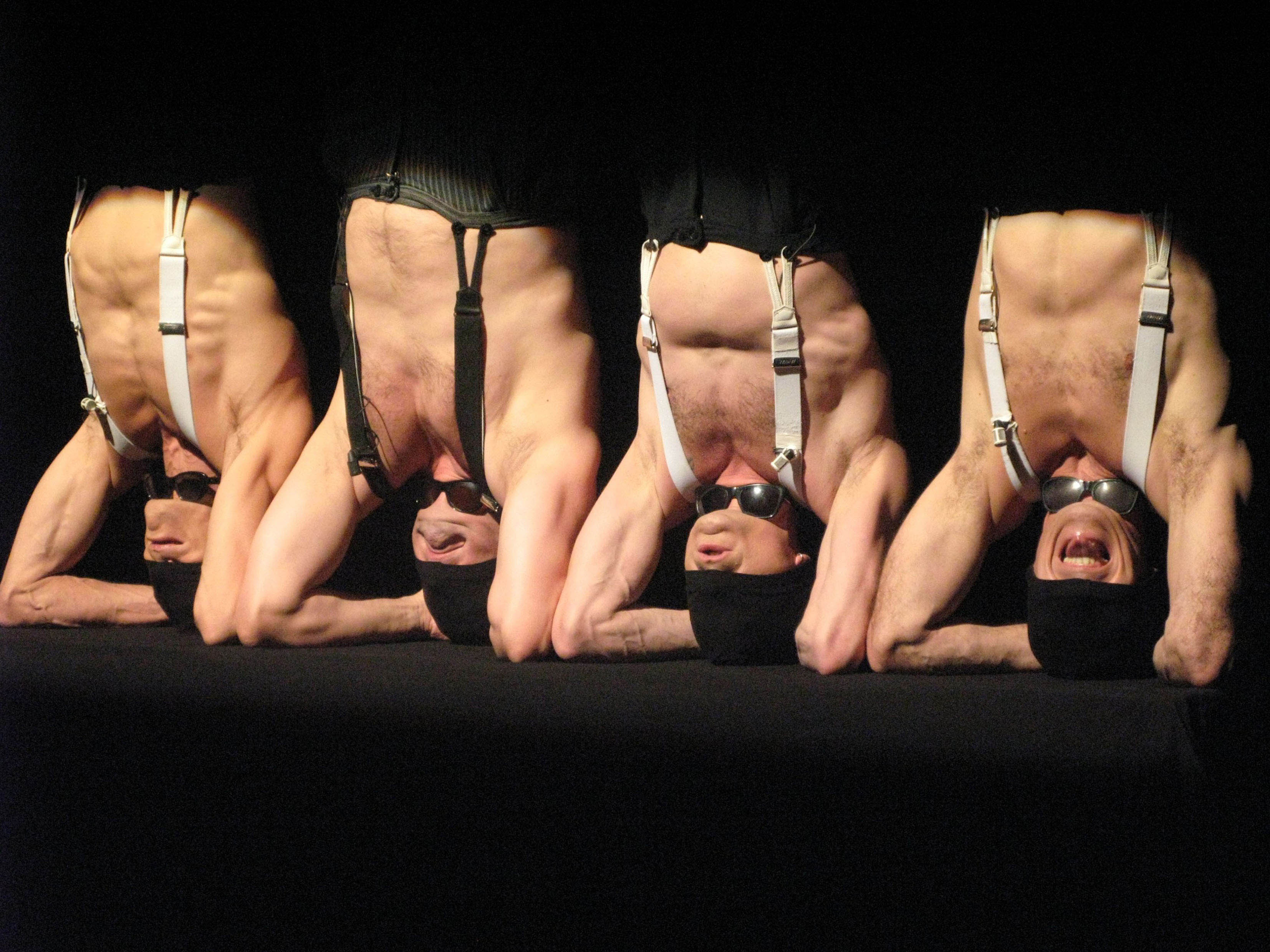 Foi divulgada hoje, durante um encontro no Teatro Francisco Nunes, a programação completa do 13º Festival Internacional de Teatro de Palco e Rua de Belo Horizonte (FIT-BH 2016), que acontece entre 20 e 29 de maio. Ao todo, a mostra oficial do festival inclui 25 espetáculos, sendo seis de Belo Horizonte, seis de outros estados brasileiros e 13 estrangeiros (veja abaixo a lista completa).
Ocupando as principais casas teatrais da cidade e também o clube noturno Sayonara, a programação internacional reúne espetáculos de Portugal, Escócia, França, Itália, Ucrânia, Argentina e Chile. Na programação nacional, por sua vez, figuram montagens de São Paulo, Natal, Florianópolis e, é claro, Belo Horizonte. Os ingressos, com preço de R$20 (inteira) e R$10 (meia), serão vendidos a partir do dia 09 de maio (segunda-feira) por meio do site fitbh.com.br.
De volta à rua. Entre os destaques da edição deste ano, está a delimitação de um tema curatorial, "resiliência", assim como uma clara valorização do teatro de rua, característica que marca a trajetória do festival e andava um pouco desprestigiada nas edições mais recentes. Além de "À Tardinha no Ocidente", do grupo mineiro Primeira Campainha, outros cinco espetáculos de rua integram a grade, incluindo o trabalho escolhido para abrir a mostra, o francês "Les Girafes, Opérette Animaliére", que deve levar muita gente até a Praça da Estação no próximo dia 20.
Além da mostra de espetáculos profissionais, a programação do FIT-BH 2016 inclui seminários e lançamentos de livros, que acontecem no Centro de Referência da Moda, além de uma série de oficinas e workshops com integrantes dos grupos que participam do festival. Também foram incluídos na grade de projetos especiais alguns trabalhos oriundos das principais escolas de teatro de Belo Horizonte.
Confira abaixo a programação de espetáculos do FIT-BH 2016:

Espetáculos estrangeiros
Clake (Circo Amarillo – Argentina/Brasil)
Clake é um espetáculo cômico que acentua o trabalho da dupla Marcelo Juan e Pablo Nordio como palhaços excêntricos musicais. Sequências de gags clássicas são combinadas com a linguagem contemporânea da dupla e resultam num espetáculo de palhaçaria cômica física e musical. Uma interessante experiência de sonoridades e circo que diverte o público de todas as idades. Dias 28/05, às 16h, no Teatro Raul Belém Machado; 29/05, às 10h, na Praça JK, e às 16h, embaixo do Viaduto Santa Tereza.
Compleanno (Compagnia Teatrale Enzo Moscato – Itália)
Dedicado à memória de Annibale Ruccello, jovem dramaturgo italiano tragicamente falecido em 1986, o texto desenvolve a dupla temática da ausência e do delírio, interpretada como produções fantasmáticas que se materializam nas palavras, nos sons e nos gestos, e focada em preencher a vacuidade da existência. Ou do teatro.
Dias 24/05, às 20h, e 25/05, às 19h, no Teatro Marília.
Con Su Permiso (Tuga Intervenciones – Chile)
Tuga é um personagem atípico. Vive em outro planeta, onde a luz vermelha do semáforo e a polícia não são autoridade. Ignorando o tráfego, sobe em veículos, some com uma passageira, aparece sobre o capô de um caminhão… Não é um perturbador, é um curioso, um ser estranho e mágico. Tuga, o agitador da rua, é todo um mundo! Dias 21/05 e 22/05, às 11h, na Pça Duque de Caxias, e às 16h, na Praça da Liberdade; 24/05, às 15h, na Av. Augusto de Lima (em frente ao Mercado Central); 26/05, às 15h, na Praça da Liberdade.
Dakh Daughters Band – Freak Cabaret (Dakh Theatre – Ucrânia)
O espetáculo promete uma viagem incrível, cheia de emoção, beleza e raiva; um concerto punk em forma de poema. A trupe se permite diversas fantasias, como a mistura de rap francês com melodias tradicionais ucranianas e ritmos orientais como darbuka. Não há tabus com as Dakh Daughters, nada é sagrado, tudo é permitido. Parecem ter o objetivo comum de exaltar a arte por meio da política — ou seria o contrário? Dias 26 e 27/05, às 22h, e 28/05, às 19h, no Teatro Bradesco.
Le Cabaret des Acrostiches (Les Acrostiches – França)
Por serem artesãos, eles criam espetáculos cheios de poesia e ousadia, nos quais seus corpos e palavras se entrelaçam em pura harmonia. Números de técnicas de alta precisão são realizadas em um contexto de inconstância e o público tem a impressão de que algo não está bem. Uma vasta gama de habilidades circenses inclui acrobacia e malabarismos, juntamente com canto, comédia, palhaços e música ao vivo. Dias 25/05, às 15h, na Praça Sete; 26/05, às 11h e às 15h, no Parque das Mangabeiras (Teatro de Arena); 27/05, às 15h, na Barragem Santa Lúcia.
Les Girafes, Opérette Animalière (Compagnie Off – França)
Um comboio de girafas passa graciosamente movimentando seus pescoços flexíveis. O diretor do circo toca o tambor, bate os pratos e imagina suas girafas pulando chamas de fogo em círculos. Sua jovem esposa, uma Diva, segue cantando e se integra ao comboio, resultando em uma harmonia lírica perfeita. Com um tom de circo e teatro, o comboio segue radiante, contemplando a cidade. Dias 20/05, às 21h, na Praça da Estação, e 22/05, às 16h30, na Praça Geralda Damata Pimentel (Nova Praça da Pampulha).
Mary's Baby – Frankenstein 2018 (Théatre Diagonale – França)
É uma viagem ao labirinto do espírito de uma Mary Shelley moderna à procura do Monstro. Uma performance solo onde corpo, imagens, som e texto são os ingredientes de uma escrita dramatúrgica plural. Atualmente, a fabricação do ser humano imaginada por Mary Shelley é uma realidade científica. O que ela poderia sonhar hoje, em uma sociedade na qual o corpo se tornou a terra de fantasias e manipulações sem limites? Dias 27/05, às 20h, 28/05, às 22h, e 29/05, às 17h, no Cine Theatro Brasil Vallourec.
Mi Hijo Sólo Camina Un Poco Más Lento (Colectivo de Investigación Teatral Apacheta – Argentina)
Branko sofre uma doença que o faz perder a mobilidade a cada dia. Como viver essa situação no âmbito familiar? O que ele pode fazer? O que podem fazer aqueles que o rodeiam? No meio dessa realidade, aparecem frestas que trazem um novo ar. Dia 24/05, às 21h, no Galpão Cine Horto.
O Meu País é o Que o Mar Não Quer (Casa da Esquina – Portugal)
Este espetáculo documental nasceu da estadia do ator Ricardo Correia em Londres, e foi construído a partir dos testemunhos da nova onda de emigrantes portugueses qualificados que tiveram de sair de Portugal em função das medidas de austeridade adotadas pelo governo daquele país. Trata-se da história de uma geração dividida entre partir ou ficar. Dias 21 e 22/05, às 20h, no CCBB-BH.
Os Mercadores das Nações (Opera Theatre Company – Grécia)
Baseado num romance do século 19, "Os Mercadores das Nações" tem lugar em 1199, quando os mercadores venezianos e os piratas genoveses lutam pela conquista das ilhas Cyclades, dirigidos por arbitrariedade e egoísmo – esse é o cenário onde se desenvolve a paixão de Augusta. Ela abandona seu marido para seguir um conde veneziano, criando assim seu próprio caminho até a morte. A narração no palco se dá através da fala, música, canto, movimento, gestos e tecnologia multimídia. Dias 27/05, às 19h, e 28/05, às 17h e 20h, no Teatro Alterosa.
The Gospel According to Jesus, Queen of Heaven (Queen Jesus Plays – Escócia)
Escrito e representado pela lendária dramaturga, atriz e poetisa trans Jo Clifford e dirigido por Susan Worsfold, este espetáculo único e extraordinário combina teatro com contação de histórias, palavra falada e ritual. Um espetáculo humano, sagaz e amoroso em que o pão é compartilhado, o vinho é bebido e as histórias familiares são reinventadas por um Jesus transgênero. Dias 21, 22 e 23/05, às 21h, no Museu Mineiro.
Toledo Suite (Compagnia Teatral Ana e Enzo Moscato – Itália)
Enzo Moscato, ator, cantor, diretor e dramaturgo italiano interpreta, acompanhado por músicos ao vivo, letras e trechos de própria autoria com citações de Brecht, Duras, Viviani, Weill, Taranto, Gill, Reed, num percurso musical culto, popular e refinadíssimo criado pelo musicólogo Pasquale Scialò. "Toledo Suite" é um recital caracterizado por intensas e sugestivas emoções obtidas graças também às imagens cênicas de Mimmo Paladino. Dias 27/05, às 20h, e 28/05, às 19h, no CCBB-BH
Uma Maria, Um José (Compagnie di Théâtre K – França)
A "Colônia". De 1930 a 1985, mais de 60 mil pessoas morreram ali… No meio deste desastre humano, dois sobreviventes, por algum milagre. Maria Aparecida, cega, surda e muda, e José Marcelino se apaixonaram. Espetáculo criado na França, baseado em história real ocorrida em Barbacena/MG. Dias 21/05, às 21h, e 22/05, às 19h, no Teatro de Bolso Sesc Palladium.
Espetáculos de outros estados brasileiros

Abrazo (Grupo de Teatro Clowns de Shakespeare – Natal/RN)
"Abrazo" é uma obra voltada para o público infantojuvenil, mas que pode ser assistida por crianças e adultos de todas as idades. Num lugar em que não é permitido abraçar, personagens atravessam um quadrado contando histórias de encontros, despedidas, opressão, exílio e, por que não, de afeto e liberdade. O espetáculo não verbal conta com a música especialmente composta para a cena e com vídeo de animação para narrar essa aventura inspirada em "O Livro dos Abraços", de Eduardo Galeano. Dias 27/05, às 19h, 28/05, às 17h, e 29/05, às 19h, no Teatro Francisco Nunes.
Cinco Semanas em um Balão (Sabre de Luz Teatro – São Paulo/SP)
Dr. Fergusson, um cientista aventureiro, seu amigo Dr. Kennedy, um explorador nada corajoso, e seu fiel criado, Joe, partem em uma aventura pela África em busca de três tesouros perdidos, a bordo de um balão. A travessia dura cinco semanas. Estes incansáveis exploradores inventam mil e uma traquinagens para superar os desafios da viagem e aprendem, durante o percurso, que nem todo tesouro do mundo é mais valioso do que uma grande aventura! Dias 21 e 22/05, às 16h, e 23/05, às 15h, no CCBB-BH.
Kassandra (La Vaca Cia de Artes Cênicas – Florianópolis/SC)
Versão atualizada e transgressora do mito grego de Kassandra, princesa de Troia, que transformou seu corpo e se tornou uma guerreira do sexo. O texto do dramaturgo franco-uruguaio Sergio Blanco foi criado para ser encenado em espaços não convencionais e em um inglês rudimentar. Na montagem brasileira, a peça se passa em uma casa de shows e a personagem é uma performer. Dias 24, 25 e 26/05, às 21h, na Sayonara Night Club.
Mundomudo (Cia Azul Celeste – São José do Rio Preto/SP)
"Mundomundo" investiga a relação cultural entre o velho e o novo por meio dos valores difundidos na sociedade contemporânea. Um mergulho que fala de homens pequenos aprisionados em um espaço enorme, motivados por um jogo no qual a necessidade é a regra. Significa o fim deste jogo, que se mantém como remedo do teatro passado, e vislumbra, na devastação que lhe circunda, formas fantasmagóricas para um teatro futuro. Dias 23/05, às 21h, 24/05, às 20h, e 25/05, às 18h, no Teatro Alterosa.
Tropa (Grupo Laje – São Paulo/SP)
O espetáculo conta a história da vida do Capitão Nascimento, antes e depois de sua saída do BOPE. A peça é inspirada nos filmes "Tropa de Elite 1" e "Tropa de Elite 2". Três atores encenam a história em uma plataforma de um metro de largura por 90 cm de profundidade. Os corpos dos atores são os maiores meios de comunicação dessa história, já que não há uso de música, cenário, adereços e iluminação. Dias 23/05, às 16h, embaixo do Viaduto Santa Tereza; 24/05, às 16h, na Praça da Savassi (rua Pernambuco entre Getúlio Vargas e Tomé de Souza); 25/05, às 15h, no Parque Municipal (em frente ao Teatro Francisco Nunes).
Uz (La Vaca Cia de Artes Cênicas – Florianópolis/SC)
Os habitantes de Uz vivem em paz, guiados pelos ensinamentos da Igreja. Até que um dia, Grace, a mais virtuosa entre as mulheres, escuta a voz de Deus. Ele ordena que ela mate um de seus filhos. Para cumprir essa sagrada missão, Grace não deixará pedra sobre pedra. Dias 21/05, às 16h e 21h, e 22/05, às 18h, no Teatro Sesiminas.

Espetáculos locais
À Tardinha no Ocidente (Primeira Campainha – Belo Horizonte/MG)
Brasil, 2014. Ana, Rê, Mona, Dita e Tops se encontram para jogar bola na rua, depois da "Ave Maria" na Igreja e antes de tocar o "Guarani" no rádio. A brincadeira, vez ou outra, parece até a história do Brasil. Uma comédia anarquista na rua. Uma opereta republicana no meio da praça. Um infantil monárquico em frente à igreja. Uma paródia ditatorial diante do povo. Uma canção utópica no fim da tarde. Dias 28/05, às 16h, na Praça Duque de Caxias; 29/05, às 16h, na Praça da Liberdade.
Calor na Bacurinha (As Bacurinhas – Belo Horizonte/MG)
Calor na Bacurinha. Saga "carnavandalizada melitintante de mulheres autênticas". Desde a lábia minora de meu próprio bordado passando por um gineceu arrombado pelo tanque de meus lençóis manchados até a terceira onda, onde meus indicadores (que não apontam pra ninguém) junto de meus polegares opositores se unem pra cantar. Dias 25/05, às 20h, e 26/05, às 19h, no Galpão Cine Horto.
Maxilar Viril (Maldita Cia de Investigação Teatral – Belo Horizonte/MG)
Obra cênica de ocupação que investiga o mito da violência na tragédia contemporânea e propõe uma reflexão com referência nas Comissões da Verdade constituídas na América Latina, especialmente as do Peru e do Brasil. Foi construído a partir da transcriação do conto "História do lagarto que tinha o costume de jantar suas mulheres", do escritor, jornalista e pensador uruguaio Eduardo Galeano, falecido ano passado. Dias 21/05, às 19h, e 22/05, às 21h, no Teatro Francisco Nunes.

Migrações de Tennessee (Cia Absurda – Belo Horizonte/MG)
É uma homenagem ao escritor Tennessee Williams, seus contos, poemas e peças. Da atmosfera decadente e underground dos anos 30 emergem personagens e situações que têm forte inspiração nas memórias e reminiscências do autor. O espetáculo entrelaça as lembranças do escritor com cenas inspiradas em seu universo temático para vislumbrar, nesses personagens obscuros e decadentes , uma humanidade profunda e luminosa. Dias 21/05, às 19h, e 22/05, às 20h, no Galpão Cine Horto.
Real (Espanca! – Belo Horizonte/MG)
Um linchamento, um atropelamento, um movimento grevista e uma chacina policial. "Real", criação do Espanca!, reúne quatro peças curtas, inspiradas em acontecimentos reais que pertencem à memória recente das cidades brasileiras. Dias 23/05, às 20h, e 24/05, às 18h, no Teatro Francisco Nunes.
Rosa Choque (Coletivo Os Conectores – Belo Horizonte/MG)
Colocar-se no lugar do outro. Misturar as cores, os tons. Confrontar-se. O choque não é de mulheres contra os homens. O choque é contra um pensamento que limita a liberdade humana, mas, principalmente, as mulheres. O choque – sem violência – é para que haja o encontro. Dias 28/05, às 20h, e 29/05, às 19h, no Galpão Cine Horto.
(Visited 2.806 times, 1.321 visits today)